The Click-mates Collection
The Cu(I) catalyzed [3+2] azide-alkyne cycloaddition (CuAAC) also known as the Click reaction (Scheme I), has become an invaluable tool in biochemical research. This cycloaddition reaction is remarkably efficient and reliable even in the presence of the diverse array of functional groups found in DNA and the variety of scientifically intriguing ligation partners. Development of the click methodology has led to the production and study of many modified DNA oligonucleotides (ODNs) for biological as well as nanotechnological and surface oriented applications. The beauty of the click cycloaddition lies in the efficient formation of a non-toxic triazole from biological building blocks that have been modified with non-perturbing azides and unactivated alkynes.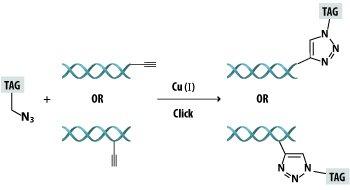 Scheme 1: The CuAAC Reaction
Our Click-mates™ collection includes alkynes for the classic CuAAC, as well as the streamlined copper-free click modifications. The Click-easy™ alkynes can help you to simplify bioconjugation work by employing cyclo-alkynes for efficient uncatalyzed click ligation.