BlackBerry Quenchers
BlackBerry™ Quencher 650 (BBQ-650™) is ideal for the quenching of long-wavelength reporter fluorophores, useful in various probe applications involving contact or FRET quenching.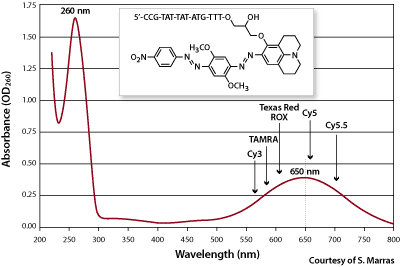 Non-fluorescent, absorbs light at long wavelengths
Useful absorbance between 550 and 750 nm
λmax varies from 650 to >690 nm in various oligonucleotides
Quenches long-wavelength fluorophores such as Cy3, TAMRA, Texas Red, Cy5, and Cy5.5
Robust, stable to synthesis
Ammonia stable for mild deprotection.
Install at internal, 3', or 5' positions with standard solid-phase oligonucleotide synthesis.
Excellent contact-mode quencher
Highly efficient quencher of FAM, Cy3, Texas Red, Cy5, and Cy 5.5 in contact quenching applications such as molecular beacons.
Particularly high affinity for Cy dyes. Signal-to-background ratios of >90 and >88 for Cy5 and Cy5.5, respectively, were observed in molecular beacons.
Excellent FRET-mode quencher
Excellent spectral overlap with long-wavelength fluorophores such as Texas Red, ROX, Cy5, and Cy 5.5, thus allowing efficient FRET quenching.
Cy5.5 was quenched with 99% efficiency when separated from BBQ-650™ by ten base pairs (ca. 40 Å) in a non-contact hybrid probe.