Skip to content
Skip to navigation menu
iBu-G-CE, 2'-MOE Phosphoramidite
iBu-G-CE, 2'-MOE Phosphoramidite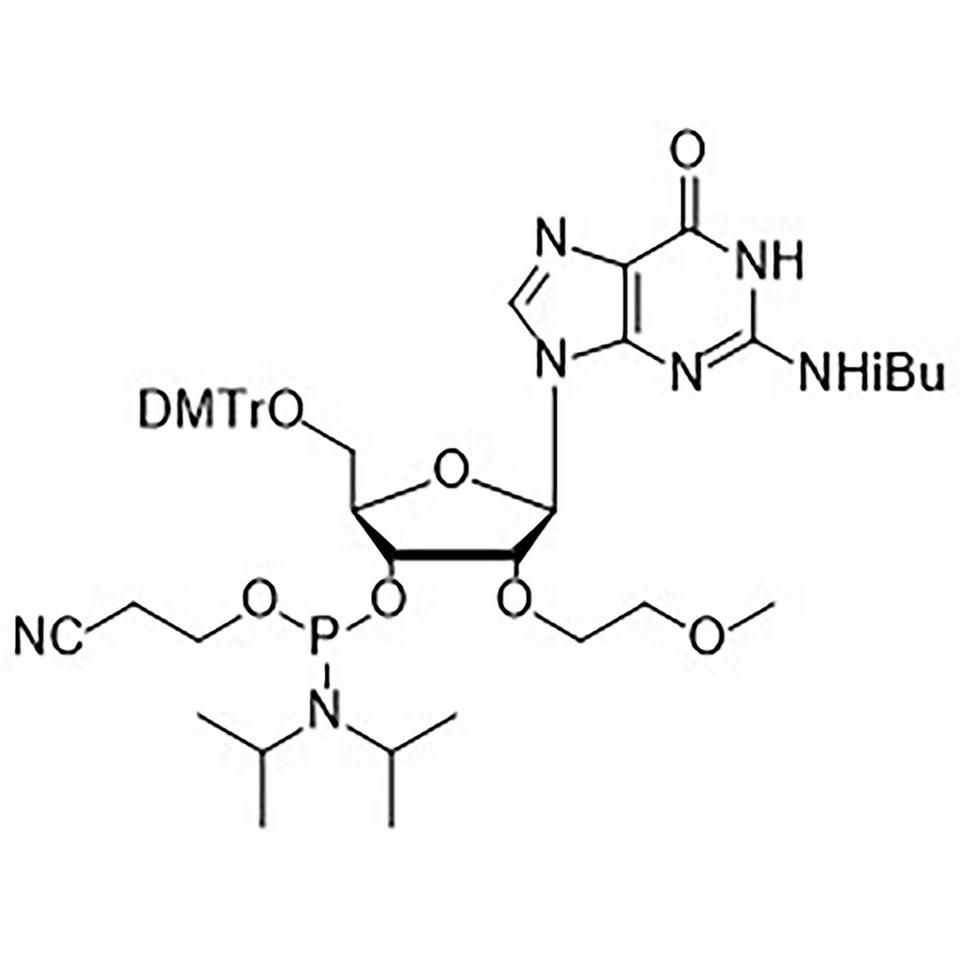 You are currently seeing list prices, to see your prices
please log in
iBu-G-CE, 2'-MOE Phosphoramidite
CAS No.:251647-55-9
Phosphoramidite used to incorporate a 2'-O-methoxyethyl-modified G into an oligonucleotide, useful for antisense RNA.
Key features
Show
Hide
2′-MOE-modified oligos exhibit nuclease resistantance, lower toxicity, increased hybridization affinity and enhanced duplex stability
Useful in antisence oligo design
High-performance phosphoramidites for automated synthesis
Product information
RNA oligonucleotides synthesized using 2'-O-methoxyethyl (2′-MOE) phosphoramidites have shown to be more nuclease resistant, with lower toxicity, and slightly increased hybridization affinities, making them well suited for therapeutic in vivo applications, such as antisense (ASO), siRNA, and aptamers.(1)
Like other 2' modifications of ribose nucleotides, 2'-MOE favours the formation of A-form, RNA-like double helices, resulting in enhanced duplex stability when paired with RNA targets. We offer the 2'-MOE phosphoramidites of A, 5-Me-C, G and 5-Me-U.
The use of these reagents in oligonucleotide synthesis is simple. A 6 min coupling time is recommended, and standard deprotection protocols can be employed. Note that methylamine should not be used with 2'-MOE-Bz-5-Me-C, in order to avoid methylation of the N4.
Ref:
(a) N.M. Dean, P. Martin, and K. Altmann, Methoxyethoxy oligonucleotides for modulation of protein kinase C expression. US5948898A, 1996. (b) C.A. Stein, and D. Castanotto, Mol. Ther., 2017, 25, 1069-1075. (c) V. Mathew, and A.K. Wang, Drug Des. Devel. Ther., 2019, 13, 1515-1525.
Access support
Need some support with placing an order, setting up an account, or finding the right protocol?
Contact us