Skip to content
Skip to navigation menu
Pyrrolo-dC CE-Phosphoramidite
Pyrrolo-dC CE-Phosphoramidite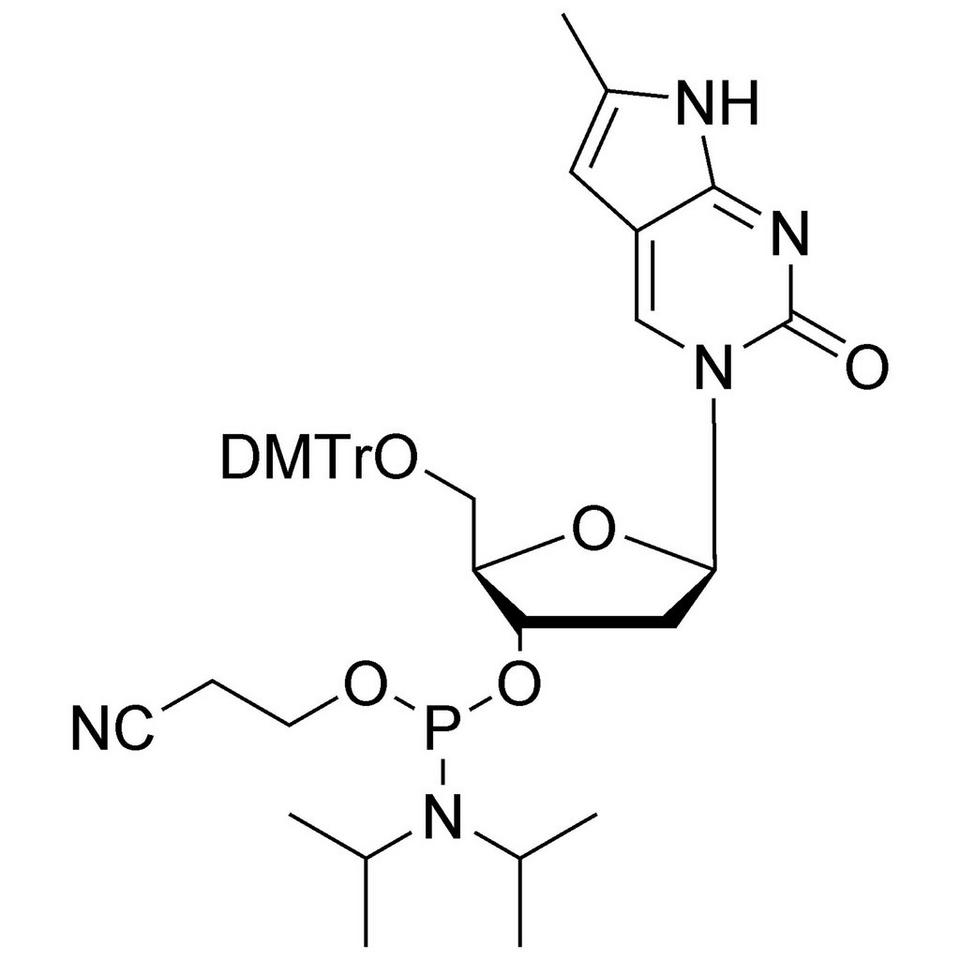 You are currently seeing list prices, to see your prices
please log in
Pyrrolo-dC CE-Phosphoramidite
CAS No.:644962-92-5
A fluorescent analogue of cytidine.
Product information
Pyrrolo-C (PC) is a fluorescent analog of cytidine.(1) It is highly fluorescent, the 2'-deoxy version exhibiting an emission maximum at 473 nm when incorporated into a 19-mer oligodeoxyribonucleotide, where it base-pairs normally with dG. Pyrrolo-C has proven to be useful for monitoring RNA secondary structure formation, where its fluorescence is reversibly quenched upon base-pairing.(2) PC has been used to follow the kinetics of formation and dissociation of an RNA/DNA complex and has been used to monitor the thermal denaturation of the central segment of an RNA duplex.2 PC has also been incorporated into native and minimal hammerhead ribozymes at cleavage site position C17, where it was found to be capable of efficient photocrosslinking to G12, resulting in catalytically active RNA that was useful in structural studies.(3) We also offer the 2'-OTBS phosphoramidite of pyrrolo-C (BA0245) as well as the 2'-deoxyribo version, pyrrolo-dC-CE Phosphoramidite (BA0170). We offer the two nucleosides (PYA11090 and PYA11092) as well as the simple fluorescent pyrrolocytosine heterocycle (i.e., pyrrolo-C aglycone (HC9060). Thompson and co-workers have studied the photophysical properties of these fluorescent pyrrolopyrimidines.[Ref: Thompson, K. C.; Miyake, N., J. Phys. Chem. B, 2005, 109, 6012-6019.
Ref:
Berry, D.A.; Jung, K.-Y.; Wise, D.S.; Sercel, A.D.; Pearson, W.H.; Mackie, H.; Randolph, J.B.; Somers, R.J., Tetrahedron Lett. 2004, 45 (11), 2457-2461.
Tinsley, R.A.; Walter, N.G., RNA, 2006, 12, 522-529.
Lambert, D.; Heckman, J. E.; Burke, J. M., Biochemistry, 2006, 45, 7140-7147.
Access support
Need some support with placing an order, setting up an account, or finding the right protocol?
Contact us