Skip to content
Skip to navigation menu
3'-Palmitate CPG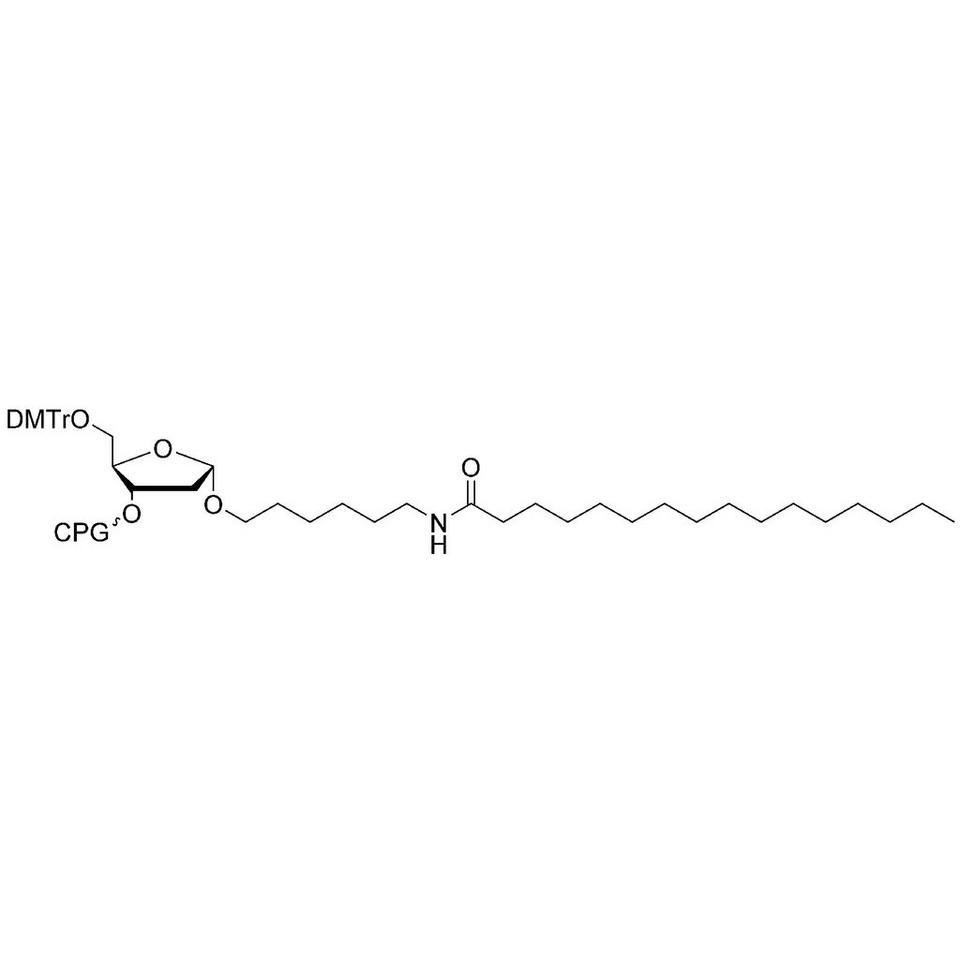 You are currently seeing list prices, to see your prices
please log in
3'-Palmitate CPG
CPG used to incorporate a lipophilic palmitoyl-modifier at the 3' end of an oligonucleotide.
Key features
Show
Hide
Useful modification to aid cell delivery of nucleic acid therapeutics.
Similar use as cholesterol.
C6 spacer alleviates steric effects of large palmitate group.
dR structure compatible with sugar-phosphate backbone.
1000 Å CPG suitable for highly modified oligonucleotides (> 20mers).
Product information
The introduction of hydrophobic (lipophilic) residues into oligonucleotides with a view to improving their penetration into cells has met with some success.(1)
Cholesteryl-conjugated oligonucleotides have in particular been the subject of substantial interest in antisense and other studies due to the lipophilicity and good availability of cholesterol.
Of similar application to cholesterol, but comparatively less studied to date, is the incorporation of the palmitoyl moiety into oligonucleotides. One such use employs an oligonucleotide conjugate with a 5'-palmitoyl group attached through an amide bond.(2) This has been used to modify GRN163, a thio-phosphoramidate oligonucleotide, to enhance the potency of telomerase inhibition. We offer both 5'-Palmitate-C6-CE Phosphoramidite and 3'-Palmitate CPG for direct incorporation of a palmitoyl group during oligo synthesis, at the 5' and 3' end respectively.
Ref:
See for example: Cholesterol conjugated oligonucleotide and LNA: A comparison of cellular and nuclear uptake by Hep2 cells enhanced by Streptolysin-O, Š. Holasová, M. Mojžíšek, M. Bunček, D. Vokurková, H. Radilová, M. Šafářová, M. Červinka and R. Haluza, Molecular and Cellular Biochem., 276, 61-69, 2005.
Lipid modification of GNR163, an N3' P5' thio-phosphoramidate oligonucleotide, enhances the potency of telomerase inhibition, B.-S. Herbert, G.C. Gellert, A. Hochreiter, K. Pongracz, W.E. Wright, D. Zielinska, A.C. Chin, C.B. Harley, J.W. Shay and S.M. Gryaznov, Oncogene, 24, 5262-5268, 2005.
Access support
Need some support with placing an order, setting up an account, or finding the right protocol?
Contact us