Skip to content
Skip to navigation menu
Universal CPG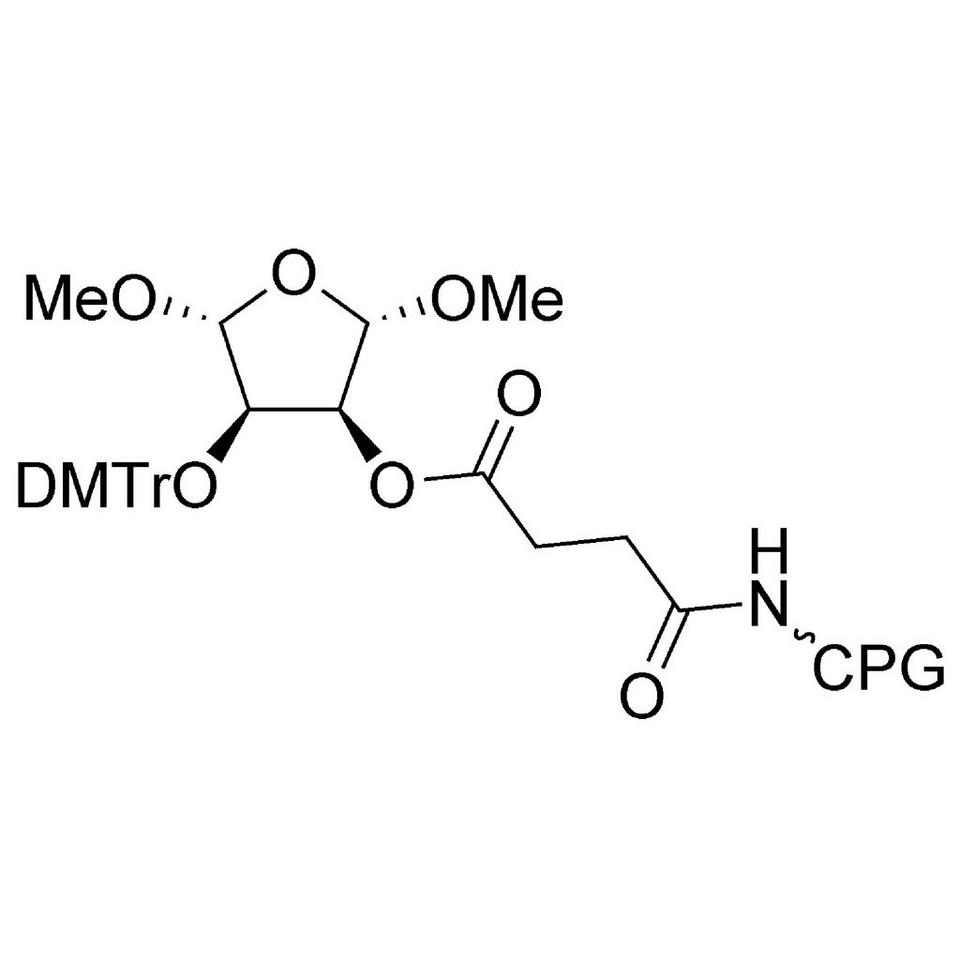 You are currently seeing list prices, to see your prices
please log in
Universal CPG
Universal CPG solid support for oligonucleotide synthesis.
Key features
Show
Hide
Original universal support.
Contains DMT functionality.
Requires elevated temperatures and/or elongated time to completely remove linker.
1000 Å CPG suitable for highly modified oligonucleotides (> 20mers).
Product information
There are advantages in using a 'universal' support where there is no nucleobase or modification already present (e.g. when using plate synthesizer). In this case, the first base at the 3'-end is determined by the first phosphoramidite addition in the synthesis cycle.
When preparing wells in plate synthesizers this eliminates the possibility of the incorrect resin being placed in a well. It also allows automated preparation of the plates to stock ready for synthesis. There is an added benefit in large scale syntheses, where supply chain is simplified as only the one support is required.
A universal support can also be applied in situations where a 3'-modification support is not available, using a phosphoramidite modifier as the first addition in the cycle (this will only work with phosphoramidites capable of extending the oligo chain, i.e. not 5'-modifiers and are compatible with the universal support cleavage and deprotection conditions).
For these purposes we offer the original universal CPG (1), plus alternative products with hydroquinone ("Q") and ribose linkers.
The Q-supports were developed (2) with fast, mild cleavage in mind, however we have observed mixed results. The linker is stable to capping mixtures, but is slightly labile in oxidiser solution (8% cleavage overnight which is the equivalent of approximately 2000 synthesis cycles on an average program).
In all cases for these universal supports, a high temperature or extended time is required to completely remove the universal linker. For this reason it is inadvisable to use these supports with modifications that require mild, ultra mild or room temperature deprotection. Compatibility with RNA is therefore mixed, and we would not recommend use with TBDMS RNA chemistry.
Ref:
A universal support for oligonucleotide synthesis, S. Scott, P. Hardy, R.C. Sheppard, and M.J. McLean, in Innovation and Perspectives in Solid-Phase Synthesis. Peptides, Proteins, and Nucleic Acids, Biological and Biomedical Applications (R. Epton, ed.), 115-124, 1994. Mayflower Worldwide, Ltd., Birmingham, UK.
Hydroquinone-O,O'-diacetic acid as a more labile replacement for succinate acid linkers in solid-phase oligonucleotide synthesis, R.T. Pon and S.Y. Yu, Tetrahedron Lett., 38, 3327-3330, 1997.
Access support
Need some support with placing an order, setting up an account, or finding the right protocol?
Contact us