Skip to content
Skip to navigation menu
dG (dmf) CPG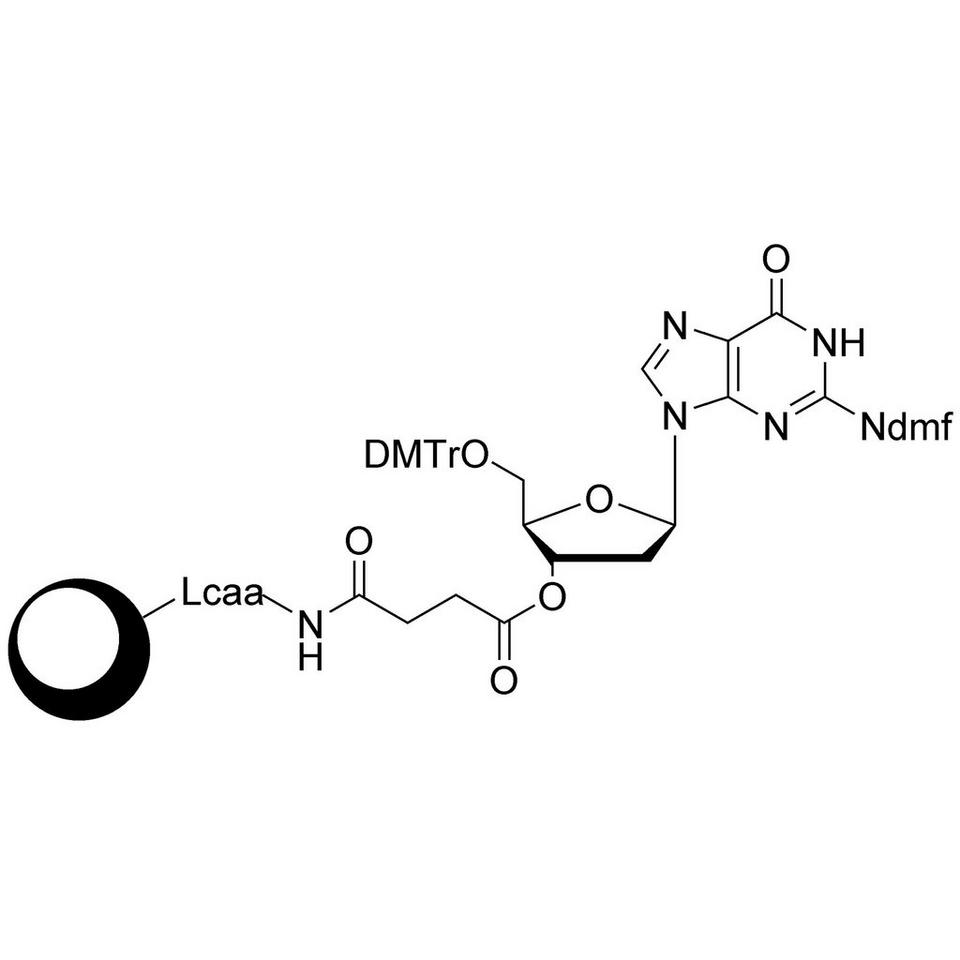 You are currently seeing list prices, to see your prices
please log in
dG (dmf) CPG
CPG for incorporation of unmodified dG at 3' end of an oligonucleotide.
Key features
Show
Hide
CPG has long-chain alkylamino succinyl linker
Available in smaller pack sizes suitable for research use
Product information
Controlled Pore Glass (CPG) has been widely used as a solid support for oligo synthesis for several decades. LGC, Biosearch Technologies' has perfected CPG manufacture for maximum oligo purity and yield. Our advanced CPG production techniques improve control of particle size and shape, pore size, pore volume, and specific surface area. These physical parameters influence solution exchange behaviour, ligand loading and distribution, and reaction kinetics to increase the efficiency, purity, and reproducibility of syntheses.
We have developed proprietary chemical attachment procedures to further optimise ligand distributions, providing increased accessibility to synthesis reagents and washing solutions and facilitating even better oligo yields and purities. Furthermore, process refinements and proprietary assays have been developed to minimise the troublesome "N-1" impurity levels in an oligo synthesis.
LGC, Biosearch Technologies' Prime CPG is considered to be the gold-standard solid support used in all sectors of the market. Our collaborative process has resulted in solid supports that are optimised for the synthesis of the latest therapeutic oligo classes including LNA, delivery enhancing lipid ligands, siRNA and Spiegelmers.
Our CPG solid supports are available in a variety of pore sizes and functionalised nucleoside loadings. Which pore size and loading required is dependent on the length, complexity and application of the oligo.
In general, large scale oligo synthesis for therapeutic applications requires high loaded 500-600 Å and small to medium scale synthesis for diagnostic or research use require higher pores sizes.
Pore size
Optimal oligo length
Capabilities
500 Å and 600 Å
≤ 30mers

Suitable for high yield applications such as therapeutic oligos
500 Å CPG can load up to ~100 μmol/g

1000 Å
> 20mers

Suitable for highly modified oligonucleotides
modifier CPGs are functionalised onto this pore size as standard

2000 Å
> 80mers

Can be used for CRISPR applications
Retains higher loading (yield) possibilities of lower pore sizes

3000 Å
> 80mers

Can be used for CRISPR applications
Performs well for very long sequences > 120mers
Aside from Prime CPG, many research-use CPG products are also available which originated from the legacy portfolios, including SynBase™ CPGs. These CPGs are manufactured from the same glass as the Prime products, using similar processes, but generally offered in smaller pack sizes for research purposes.
SynBase loading options
| Product | Average Pore Size (Å) | Nominal Particle Size (µm) | Nucleoside Loading (µmol/g) |
| --- | --- | --- | --- |
| SynBase™ CPG 500/50 H | 500 | 50 | 80-130 |
| SynBase™ CPG 500/110 S | 500 | 110 | 35-50 |
| SynBase™ CPG 500/110 H | 500 | 110 | 60-100 |
| SynBase™ CPG 1000/110 | 1000 | 110 | 25-40 |
| SynBase™ CPG 2000/110 | 2000 | 110 | 15-35 |
| SynBase™ CPG 3000/110 | 3000 | 110 | 10-25 |
Product names are appended with either an 'S' or 'H' respectively where there is a choice
A number of linker variants are used in our DNA CPG products, although a long-chain alkyl amino succinyl linker (CNA) is the most common.
| Linker variants | Benefits |
| --- | --- |
| Aminopropyl (AMP)-succinyl combination | Allows for smaller pore sizes which is ideal for research use |
| glycolate linker | Cleaves under mild deprotection conditions |
| Q-linker (hydroquinone-0,0'-diacetic acid group) | Quick cleavage (2 mins at room temperature) which is ideal for base sensitive oligonucleotides of dye labelled oligos |
Access support
Need some support with placing an order, setting up an account, or finding the right protocol?
Contact us