Skip to content
Skip to navigation menu
tCnitro CE-Phosphoramidite
tCnitro CE-Phosphoramidite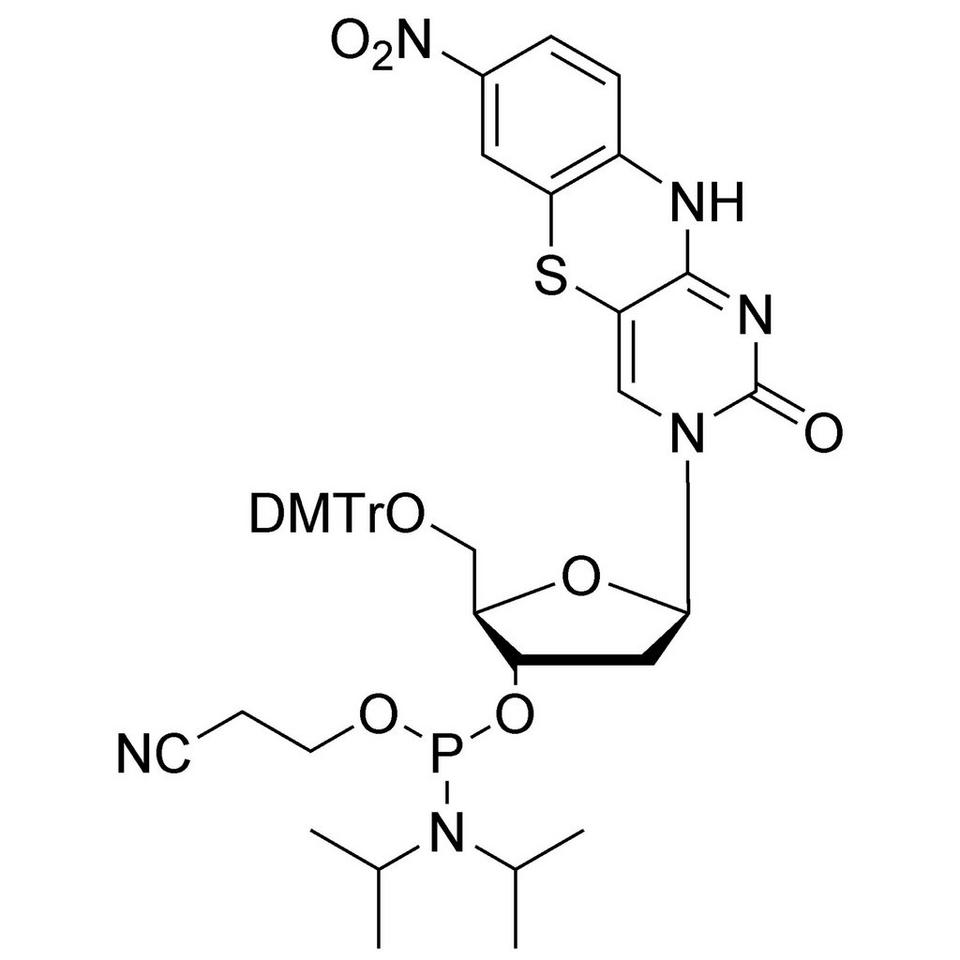 You are currently seeing list prices, to see your prices
please log in
tCnitro CE-Phosphoramidite
FRET acceptor for tricyclic fluorescent dC nucleoside analogues.
Product information
The tricyclic fluorescent nucleoside analogues, 1,3-diaza-2-oxophenothiazine, tC (Phosphoramidite: BA0318), and 1,3-diaza-2-oxophenoxazine, tCo (Phosphoramidite: BA0336), are dC analogues that have been shown to base pair with dG with virtually no disruption of the normal duplex structure.(1) The fluorescence quantum yield of tC is essentially unchanged between single-stranded and double-stranded DNA (0.21 and 0.19 respectively). Also, the fluorescence characteristics of tC are not sensitive to neighbouring base combinations, and has been shown to be the brightest fluorescent nucleoside analogue in duplex context reported so far (up to 25-50 times brighter than 2-aminopurine). The base analogue tCnitro (Phosphoramidite: BA0362) is a FRET-acceptor together with tCo (or tC) as the donor molecule. tCnitro is virtually non-fluorescent under normal conditions.
Ref:
(a) D.A. Berry, et al., Tetrahedron Lett., 2004, 45, 2457-2461. (b) P. Sandin, et al., Nucleic Acids Res., 2008, 36, 157-167. (c) P. Sandin, et al., Nucleic Acids Res., 2005, 33, 5019-5025. (d) K.C. Engman, et al., Nucleic Acids Res., 2004, 32, 5087-5095.
Access support
Need some support with placing an order, setting up an account, or finding the right protocol?
Contact us