Skip to content
Skip to navigation menu
Fluorophores and Quenchers
CPG column used for 3'-CAL Fluor Orange 560 labelling of oligonucleotides.
Fluorophores and Quenchers
Fluorophores and quenchers are used for generating dye-labelled oligonucleotides, enabling a variety of biochemical and analytical applications, such as DNA Sanger sequencing and allele discrimination.
We manufacture over 100 different reagents for incorporating various types of fluorophores into oligos. Whether you need to make singly or doubly labelled probes, we have the fluorophores and quenchers you need or we can custom synthesise it.   
Most of our fluorophores are offered as phosphoramidites and CPGs, resulting in more efficient label incorporation and fewer purification steps than post-synthesis labelling. 
Fluorophores
Fluorescein
Fluorescein dyes fluoresce in the green-blue region of the visible spectrum, and are most efficiently quenched by BHQ-1.
Cyanine
Fluorescent markers with a tunable emission spectra, primarily used for molecular diagnostics. 
ROX
(6-carboxy-X-rhodamine) Routinely used as a passive reference dye to provide a stable baseline for fluorescent reporter dyes in qPCR or RT-PCR. 
CAL Fluor
Xanthene fluorophores specifically designed for qPCR instruments. 
Quenchers
TAMRA
Rhodamine dye, most commonly used as a quencher, but sometimes as a fluorescent oligo label.
Black Hole Quencher (BHQ)
Gold-standard quencher of choice used in qPCR probes and other FRET applications. They are true dark quenchers covering visible to near IR wavelengths.
BlackBerry Quencher (BBQ)
Synthesis-stable dark quencher of long wavelength fluorescence. Excellent FRET-mode quenchers.
Deep Dark Quencher (DDQ)
​​​​​​Non-fluorescent quencher for shorter wavelength dyes (e.g., FAM). Its incorporation preserves the structure of the oligo.
Dabsyl
Structurally similar to dabcyl, but with a sulphonamide bond to the backbone. Quenches in the green light region.
Dabcyl
A non-fluorescent (dark) quencher compatible with dyes emitting at 400-550 nm or Molecular Beacons.
BlueBerry
​​​​​​​pH sensitive quenchers useful in sensing tools for imaging ions in a cellular environment.
The fluorophore-quencher pair of choice is dependent on the emission wavelength of the fluorophore (i.e., detection signal required); however, keep in mind that you might need to modify the emission wavelength of the fluorophore by creating two donor-acceptor interactions (e.g., FAM/ROX/quencher).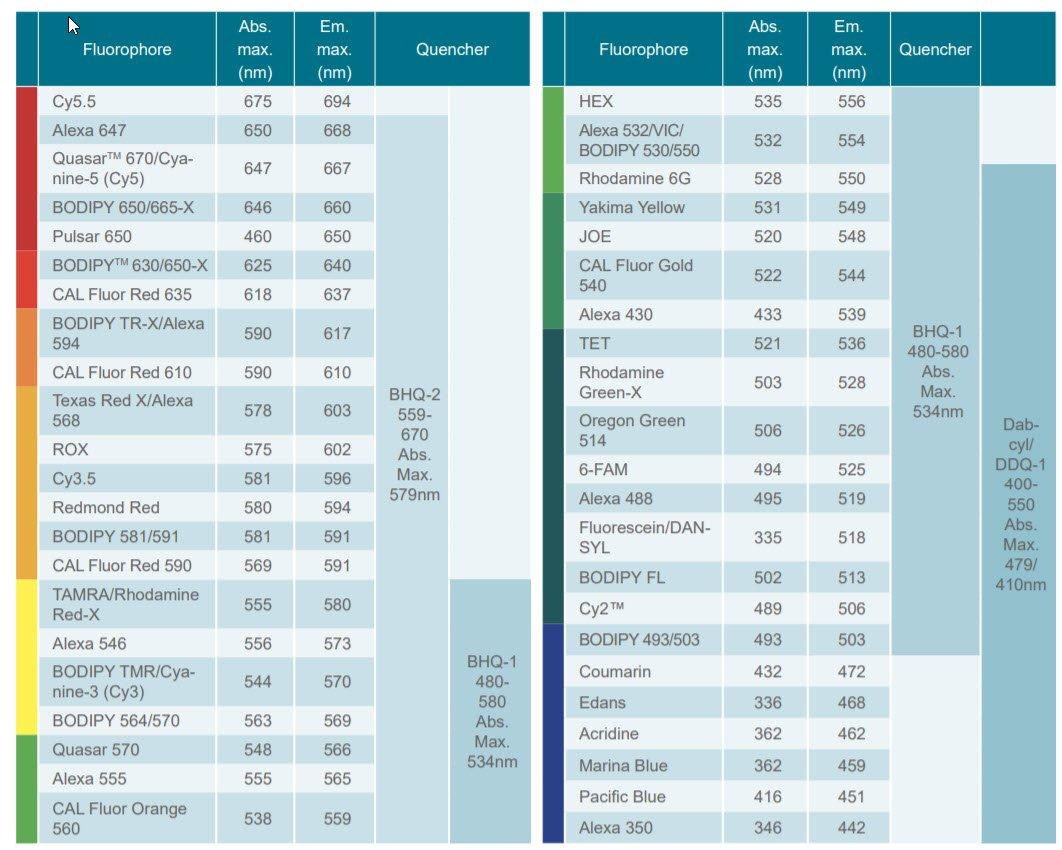 Table 1: Dye and Quencher Selection Chart. Note the dyes are listed in order of emission maxima/ the colour scale is used only as a pictorial representation.
With our legacy partnerships, Biosearch Technologies have developed a novel line of pH-sensitive quenchers. The ability to tune absorbance as a function of pH helps enable tuning sensors (e.g., nanoscale ion-selective optodes) for a dynamic range, sensitivity, wavelength, and selectivity.
| pH-sensitive Quencher | Max Absorption | pKa | Molar Absorbance (M-1cm-1) |
| --- | --- | --- | --- |
| Blueberry-C6-ester- 652 | 665 nm | 7.8 | 25,440 |
| Blueberry-cyano-C6-ester | 623 nm | 8.0 | 24,500 |