Skip to content
Skip to navigation menu
5'-OMe-Vinyl Phosphonate, 2'-OMe-U CE-Phosphoramidite
5'-OMe-Vinyl Phosphonate, 2'-OMe-U CE-Phosphoramidite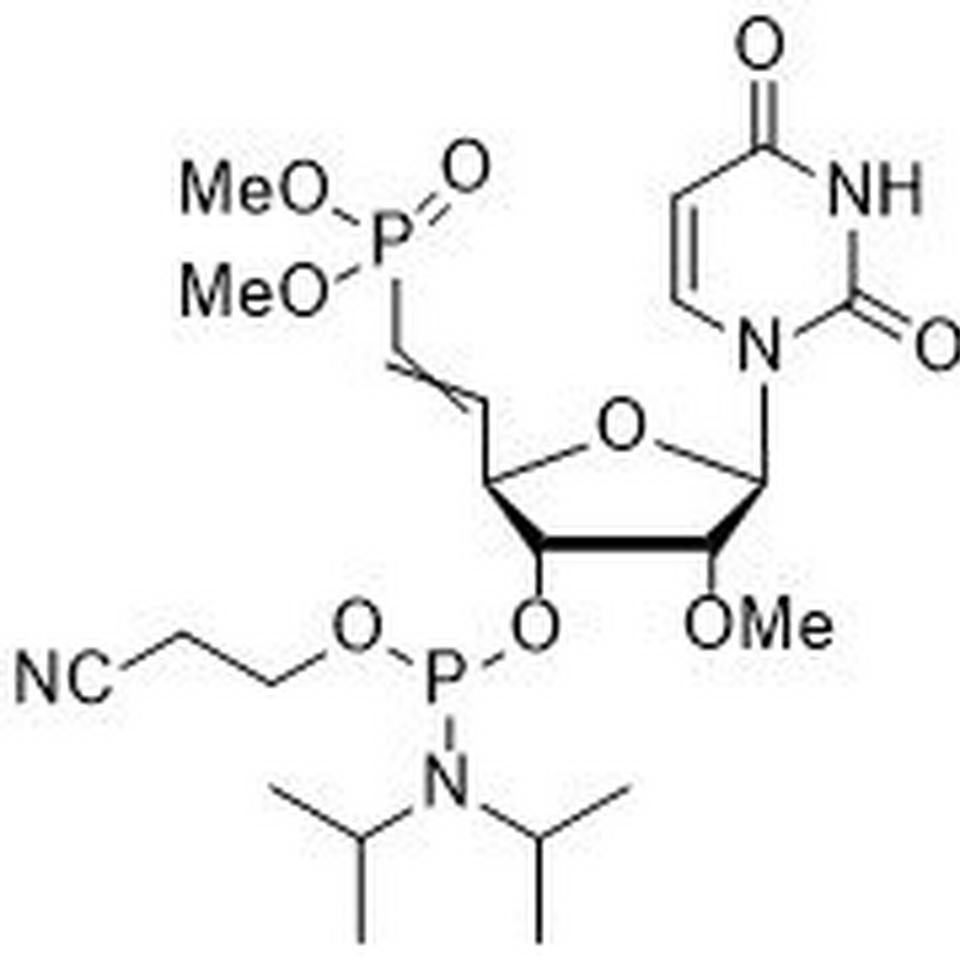 You are currently seeing list prices, to see your prices
please log in
5'-OMe-Vinyl Phosphonate, 2'-OMe-U CE-Phosphoramidite
Methoxy-protected phosphoramidite for incorporation of a 5′-(E)-Vinylphosphonate (VP) moiety into an oligonucleotide.
Key features
Show
Hide
Metabolically stable 5' vinyl phosphonate mimics 5' phosphorylation.
Available in small pack sizes for research use
Stringent QC includes testing for synthesis coupling efficiency
Product information
The standard dU nucleobase is chemically ligated with a hydrolytically impervious 5' vinyl phosphonate (VP), an effective bioisostere of the natural 5′-monophosphate in small interfering RNAs (siRNAs). VPs are shown to enhance RNA-induced silencing complex (RISC) recognition and thus avoid the use of metabolically unstable 5' phosphates. There is some evidence to suggest enhancement of exonuclease stability. Of particular use where a sequence is incompatible with cellular kinases and thus cannot be 5' phosphorylated in-vitro. (1)
Two options are available, either OMe or POM protection. 5'-[O,O-bis(pivaloyloxymethyl)] (POM) protection allows clean and rapid one-step deprotection with addition of 3% (v/v) diethylamine to the standard aqueous ammonia deprotection solution, minimizing side reactions and impurities.
Ref:
Jadhav et al. ChemBioChem 2016, 17, 985 – 989.
Access support
Need some support with placing an order, setting up an account, or finding the right protocol?
Contact us